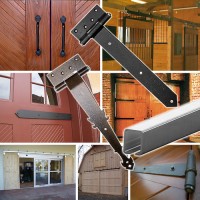 Specialty Architectural Door Hardware
Specialty architectural door hardware, as its name implies, is a unique category of building products for sliding and swinging doors used by the architectural market for commercial, industrial, and residential design.
When you are in the process of designing a new building with large or oversized doors there are many architectural hardware options to complement your design.
Specialty Door Hardware Includes:
Heavy Duty Sliding Door Components, Track, Brackets, and Hangers (door trolleys)
Sliding Door Hardware Kits
Slide-Fold Hardware Kits
Standard Strap Hinges
Industrial Strap Hinges
Heavy Duty & Extra Heavy Duty Cremone Bolts
Bolts, Latches & Miscellaneous Components
What distinguishes specialty door hardware for architectural structures from standard door hardware? Unique niche applications, heavy-duty strength, and superior quality are terms that come to mind.
Specialty Door Hardware Products are fabricated from a heavier gauge of steel for better product quality and longevity.
Tighter tolerances are standard, and the finish for both interior and exterior applications is thicker and superior to standard hardware coatings.
This results in components that are built to last. Not only will they be able to support the type of door you want in terms of material, they are also built to support a wide variety of door sizes, styles and weights. Whether your commercial design incorporates large scale exterior swing doors, sliding doors and tracks as room dividers or theater staging work, Richards-Wilcox has hardware for your project.
Significant Considerations for Architectural Doors
Further, two elements are significant for these products: the ability to hold heavier door weight capacities from 200 lbs. to 5,000 lbs., and the ability to contain larger sized doors from 7' – 24' in height or higher, and 50' wide or wider.
Special considerations have to be given to:
Weight Distribution
Mounting
Support Mechanisms for Doors
Where Is it Used?
Commercial applications of specialty door hardware encompass many types of buildings and also unusual architectural elements, such as sliding exterior walls or even sliding curved walls to partition interior spaces.
Specialty door hardware is used in theaters for stages sliding doors and curtains, acoustical panels, and light rigging. Panels can be used to reduce stage size for smaller productions.
Another common use for sliding doors is in schools and summer camps to divide auditorium and gym space and to screen cafeterias during downtime.
Other moveable panel applications include product showrooms, room dividers, chalkboards, and conference room video walls.
Adaptive Reuse Applications
Adaptive reuse of factories and warehouses is another application for door hardware. It is used for entrances, moveable walls, or other inventive designs.
For example, the repurposed factory (shown right) has been turned into an art museum with studio space for resident artists. Special architectural panels were mounted to sliding door track to create moveable galleries and rotating exhibits.
References
GoggleWorks Center for the Arts
Capitol Camp
Smithsonian Museum
Mercersburg Academy
B & O Railroad Museum
Wye Hall
Salisbury House
Aurora Fire Museum