Specialty Door Hardware for Historic Preservation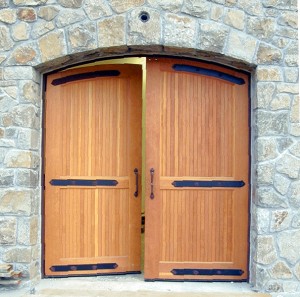 Since 1880, Richards-Wilcox has been manufacturing hardware and door accessories for use in historically significant buildings.  Many of our products still feature the original designs that were introduced in the 1880's which are some of the earliest manufactured hardware for barns, stables and garages. These antique patterns or historically accurate replicas are now extensively used in the traditional building and historic preservation markets including:
Renovated Fire Houses
Carriage Houses
Museums
Wineries
Restored Barns and Stables
Residential Doors
Ornamental Iron or Wooden Gates
Cellar Doors
Boat Houses
Adaptive Reuse
Adaptive reuse of factories and warehouses is another application for door hardware used for entrances, moveable walls, or other inventive designs.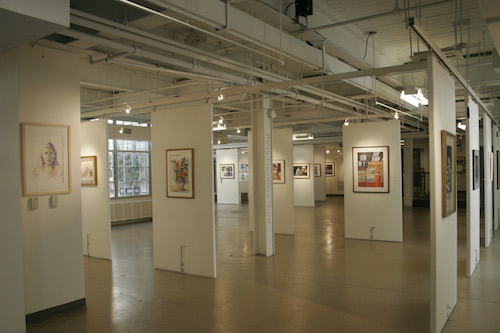 For example, the repurposed Goggle Works Center for the Arts (shown right) was a factory that supplied aviator goggles and gas masks for soldiers during World War II.
It was rescued from demolition, and turned into an art center with museum, studio space for resident artists and classrooms for community outreach.  The large gallery space has special panels mounted to sliding door track to create multiple moveable galleries and rotating exhibits. 
The Old Becomes New
Flat track, the earliest style of sliding door track used for barns, stables and garage door operation, began to be replaced in the 1930's by the introduction of the enclosed boxed track designed by Richards-Wilcox.
When the historic preservation movement gained traction in the United States  after the 1980's, many building owners began to seek out sliding door track in the original flat design prevalent in early construction.  Now more than ever architects and home owners are specifying this unique style of sliding door track in new traditional building and rustic homes.  Today's flat track has been modernized with safety features that were lacking in the original design such as anti-jump blocks, guide channels and stay rollers.
References
Goggle Works Art Gallery
B & O Railroad Museum
Wye Hall
Salisbury House
Aurora Fire Museum