Designing Zoos and Aquariums
Zoo and aquarium exhibits must be conducive to animal well being and health, benefit zoo keepers by being easy to maintain, and present exciting learning experiences for the public.


Special Hardware for Zoos and Aquariums
Security and Safety
Zoo and Aquarium exhibits have special design considerations for protection of animals and keepers. First and foremost, door and gate hardware must be safe for animals, with no sharp or unfinished edges to harm them and no ability for the animals to manipulate hardware to forcibly open containment doors.
Equally important is the protection of keepers and veterinary staff from bodily harm while tending and moving dangerous and large animals from outdoor exhibits to indoor containment areas or for medical treatment.
Where can specialty hardware be used at a zoo?
Outdoor Exhibits and Paddocks
Containment and Holding Areas
Maintenance Barns
Veterinary Centers
Quarantine Centers
Crowding Doors and Gates
Barn Doors and Stalls
Challenging Environments
Hardware used in zoo enclosures must withstand corrosive, harsh environments, and daily, rigorous use that includes frequent cleaning for animal hygiene.  Finishes for zoo hardware vary from powder coating commonly used for hoofed stock and primate exhibits to zinc plating or stainless steel typically preferred for exhibits near salt water environments such as sea lions or penguins.
Ease of Use
Swinging Door Systems
Correctly designed swinging zoo door systems should be easy for keepers to manage, requiring little force to move. Heavy duty hinges with ball or disc bearings should operate smoothly, while supporting the heaviest of entry doors, even those that weigh hundreds of pounds.   The key is the right selection of hinge and the proper number of hinges sized to the door weight and height.
Sliding Door Systems
Horizontal sliders used in caging should be paired with appropriately sized hangers and track to hold up to constant, daily use, operate smoothly, and move with little physical effort. Sliding door systems should have a low coefficient of friction. What this simply means is it should take little effort to move heavy doors.. Example: Take a 3,000 sliding door in a rhino enclosure. With track and hangers sized for this massive door there should only be 1% coefficient of friction. This translates to only 30 pounds of force required to move a very big door.
Mechanical assist devices such as remote crank operators have gears to reduce the force needed to open and close doors as well. Gears and operating mechanisms should be completely enclosed to eliminate injury to animals and keepers and to protect internal parts from debris and corrosion. However the protective enclosure should permit cleaning and routine maintenance. Crank operators can be wall mounted or gate mounted.
Remote Access for Keeper Safety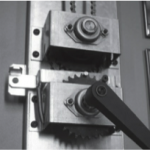 Remote crank actuators for vertical lift or horizontal sliding doors and gates can be installed at great distances to allow for keeper safety yet incorporate automatic safety lockout so animals are never harmed should a door be accidentally released. A closed loop system that can be padlocked ensures the animals will never be able to manipulate actuator hardware to forcibly open containment doors.
Veterinary Treatment Centers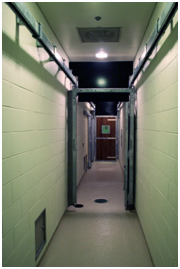 Moving animals from exhibit to containment and examination in veterinary centers is not always a simple task. Richards-Wilcox crowding door hardware helps to handle the job with precision, responding smoothly to the handler's direction to gently move even frightened or uncooperative patients forward to examination rooms.  Shown are door hangers, track, and cane bolts for crowding gates.
Richards-Wilcox Experience
For over 125 years Richards-Wilcox Hardware has been protecting animals and their keepers in zoos nationwide.  Whether they gallop, creep, crawl, or fly, your animals are safe with Richards-Wilcox Zoo Hardware.  We work with design teams including zoo facility managers and staff, contractors and architects to create exhibits that have well planned accessibility.
Here are some of our installations:
Chicago Zoological Society – Brookfield Zoo
Columbus Zoo
Cincinnati Zoo
Lincoln Park Zoo
Houston Zoo
Hugh Kaul Children's Zoo
Erie Zoo
Toledo Zoo
Sea World